Actor Prakash Raj Questions PM Modi and KRK Joins him .
South Indian and Bollywood Actor Prakash Raj Slams PM Modi . He questions PM Modi's Silence over the murder of Journalist Gauri Lankesh. He tweeted on Sunday that he felt like giving all his awards to those actors who are acting as though nothing has happened . But later he dismissed his statement by saying he is not such a fool to return all the national awards.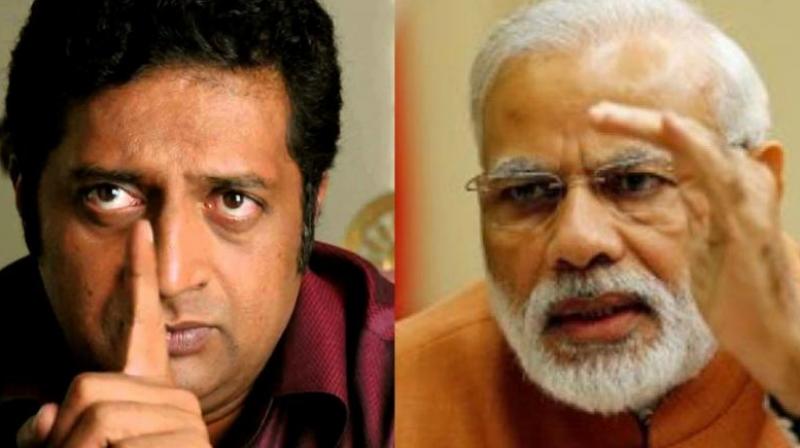 He tweeted –
"The PM is is a bigger actor than me, I should give him my award. There is a huge crowd out there enjoying and celebrating it (Gauri Lankesh's murder) on social media. We all know what their ideology is. Some of those celebrating this ghastly episode are being followed by none other than Mr Narendra Modi himself. This worries me.
During his speech at the event he said  "I am a renowned actor, do you (Modi) think I will not be able to detect when you are acting? At least show me some respect, considering the fact that I am an actor and I will be able to tell what is the truth and what is acting."
This speech raised storm on the news channels and social media . Prakash Raj was never highlighted for  his political comments but this time its about his family friend.
KRK jumps into the line to support Prakash Raj . His tweet reads – 
 "Now I have simple question to all Bhakts. Will you Call Prakash Raj #Deshdrohi n send him to Pak like you were sending SRK n Aamir?"
He questions all the Modi followers if they will tag this actor as Deshdrohi because he has spoken against PM Modi .
KRK did not stop here . He again tweeted –
 "PrakashRaj said- I am ashamed to See PM Modi Ji following those people, who are abusing women n children on the Twitter. I do agree with him!"
This is the First time when all the people comes in support of KRK . Peoples are tweeting and giving him good response which is unusual to him.
PM Modi is still holding the silence and busy in his world tour . We hope we will hear something from him very soon.
manager
(Visited 12 times, 1 visits today)